Mr. Brown's Crumpter on Significant Objects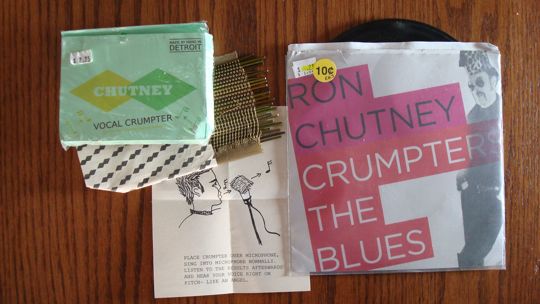 Matt Brown, designer and human extraordinaire of IxD 2009 and Design Fancy fame, seems to have done it again. But this time, he charmed no other than Paola Antonelli, of all sorts of fame. With Core77, she's curating this exhibition for Significant Objects, and assigned Matt the difficult task of coming up with a story around the use of a (past-future?) material.
Here's a peek:
When I first met Ron Chutney I was 16 and looking to cut a record. Sang a few songs for him at his studio and I remember my voice being horrible and embarrassing, so imagine my excitement when Ron heard the first track and said, "Yeah we can Crumpter that up just fine." Crumpters. Today auto-tuned vocals are all the rage, but no one remembers the analog version Chutney created back in the late '50s. It was a way for guys like me to get an acceptable track out. You see, if you sang through it, your voice would be pitch perfect every time, "like an angel," Ron would say. Nowadays they teach advanced harmonics in the third grade, so I probably don't have to explain to you how a Crumpter works — but I will anyway. Each one has to be made by hand, in the winter, in Detroit.
You can read the full article, and see a whole lot of additional images, here. Congrats Matt, witty and entertaining as usual.